The rise of Keyless Theft in the UK
As mentioned in the Thatcham's Update, there are a lot of initiatives underway to try and prevent these thefts:  
The old classic – steering wheel lock
RFID pouches - they contain signal blockers to prevent keys from being copied
OBD port protectors
 RFID (Faraday) pouches can be purchased from retailers such as Amazon, from as little as £8.99.
What cars are most at risk?
Unfortunately, a very high number! German General Automobile Club (ADAC) tested 30 different car manufacturer brands, which included 230 cars only 3 couldn't be unlocked.
Here are some of those that are most at risk:  
Mini Clubman
Mazda CX5
Lexus RX 450h
Kia Optima
Hyundai Santa Fe CRDi
Honda HR-V
Ford Galaxy
Ford EcoSport
Citreon DS4 CrossBack
BMW 730d
Audi A6
Audi A5
Audi A3
ADAC found that Jaguar Land Rover cars were the most secure, and they couldn't break in using keyless theft. More specifically, the latest models of the Discovery, Range Rover and the 2018 Jaguar i-Pace. However, the older models of Jaguar Land Rover could still be entered through keyless theft, and these are quite popular among our HNW clients.
Did you know?
The Renault Laguna was the first vehicle released with the Keyless technology back in 2005.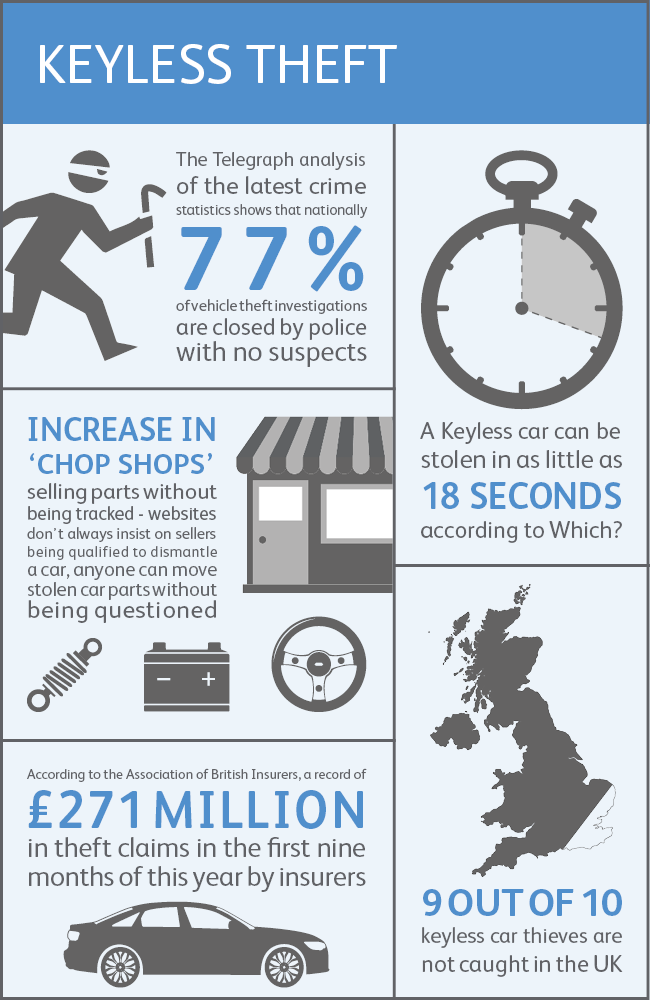 -Ends-
Back to list
Media Contacts
For media enquiries, please contact Stephanie Cox.